Having opened its doors back in 1880, family-run homeware store Angela Reed knows a thing or two about selling. Now run by the fifth generation of the family, the Saffron Walden-based boutique shop is steeped in history, having reinvented itself several times over the years it has been trading.
Found on Market Hill, the store is spread over 13 rooms of a characterful property, and offers a wide selection of hand-picked furniture and accessories for the home. A recent addition is a café and bakery, which sells home-made and locally-sourced goodies, and makes an ideal pit stop for those browsing in the shop.
"The best thing about having an independent shop is that we can choose what we sell and can respond to what customers want," says David Reed. "The ultimate reward, in fact, is the fantastic feedback and the positive comments from customers on our choices, no matter whether they buy now or come back later.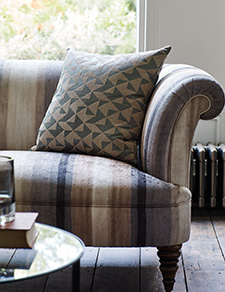 "We've also definitely learnt a thing or two from our founders," he continues. "I think a strong work ethic has always been bred into us! And I know that Thomas, who founded the shop in 1880, was very entrepreneurial and forward-thinking, which I would like to think has been carried forward."
From the English-made Ludlow wooden bedroom furniture to Parker Knoll sofas and chairs, customers can find many classic and timeless pieces to add to their homes. It's also a one-stop shop for home gifts and accessories, including a range of beautiful printed cushions by Voyage, which, says David, "have found a spot in my own home".
Current bestsellers include a French colonial-style desk made from reclaimed wood and the retro-style Rimini dining table and chairs. "In fact, furniture that references designs from the 60s and 70s is very on trend right now," says David. "Also popular are geometric shapes and industrial furniture – such as our Finley chairs and metal-based dining tables."
Being surrounded by home furnishings all day, what does the Reed family home look like? "We like to mix antique and vintage pieces with really eye-catching modern items.
"Ultimately, however, we like our home to be comfortable. It has to be relaxed – which is what many of our customers say. We have two young children and our son has already mastered moving furniture around to make dens and castles, so you can't be too precious!"