Updating and replacing traditional windows and doors made simple
A specialist in traditional window and door replacement and refurbishment, Cambridge Classics has been an independent company for the past 18 years. From casement to sash windows, period front doors to charming stable doors, the company is able to replace or restore these cherished, important features that make many older houses so appealing. Cambridge Classics is also an expert in stained glass and lead light windows and it offers a number of ways to save original stained glass features, or, indeed, create a brand-new design.
"Cambridge Classics was originally started by my father some 18 years ago," says Camilla Carter, who now runs the company with her husband, Stuart. "He identified a need in the local area for a traditional wooden window company, due to the high number of listed and period properties that can be found in and around Cambridge. My husband and I bought the company in 2017, and it is going from strength to strength."
Placing the satisfaction of each customer at the heart of the business, Cambridge Classics prides itself on its local roots and its hands-on approach to business. "We employ local people for all our work – from the joiner to the company that does all our stained glass," continues Camilla.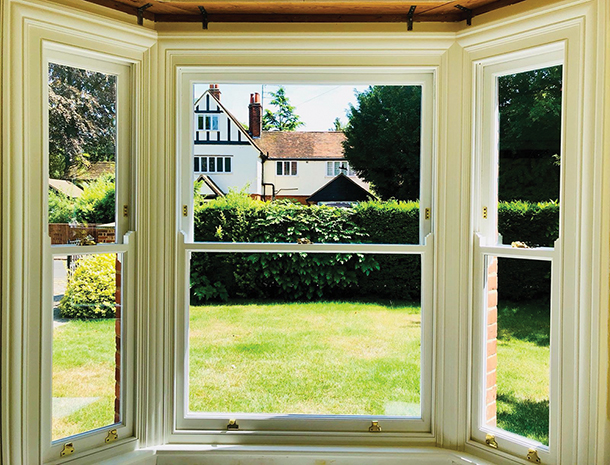 "Being small and independent gives us the ability to be more customer focused. From the moment we quote for a job to the finishing touches, we keep the customer informed. We are always on the end of a telephone or an email – something that many of the larger national companies are unable to do. We can also offer those small final flourishes that make a big difference to customer satisfaction."
Keeping an eye on trends, the company is benefitting from the current move away from uPVC windows and back to wooden sash windows, with many homeowners wanting a certain amount of authenticity when it comes to home design. "We are seeing a trend away from uPVC and back to wooden windows for sure. Especially in the current climate where renewable products are at the forefront," says Camilla.
---
"Small final flourishes make a big difference to customer satisfaction"
---
"The architectural 'furniture' of a house is very important and the windows and doors you choose can make all the difference to the look of your home. They need to be in keeping with your surroundings, and, in Cambridge, there are lots of period houses with original features that many customers want to keep. Sometimes it's not viable, due to the damage they have sustained over the years, but where possible we will always restore before replacing."
Whether it is replacing or renewing, Cambridge Classics offers a design service to ensure each customer is happy with the end result. "Many customers have requested new stained glass for their doors and windows, for instance, and so we work on the design with the client – we don't stop until they are happy."
As well as restoring original features, Cambridge Classics also has a wide range of new designs of windows, doors and interior shutters on offer.
From the Cambridge University-named range of doors to the Norfolk Sliders windows (which open with a sash sliding left or right, rather than upwards or protruding), there is a wide selection to choose from. What's more, many items will soon be on show once the company's planned new showroom opens.
"We are looking forward to opening the showroom and being able to show people a range of products. Being a small, thriving business seems to be appealing for customers and is great for us, too," concludes Camilla.
"We have a great team here, from the office staff who take the initial call right through to the joiners, carpenters and decorators. Without each and every person the company wouldn't be what it is and what it will be in the future."
Cambridge Classics | 01223 313185 | cambridgeclassics.co.uk