This Image: Source charming ornaments and crockery from HomeSense, from £3 (www.homesense.com)
Angelina Villa-Clarke talks decorating at Christmas in this month's feature, The Festive Home
The concept of storytelling is integral to Christmas. The creation of magical worlds, as seen in fairy tales for instance, is mirrored in us decorating our homes for the season. Glittering colours, traditional iconography and sweet woodland themes (think jolly Santas and rosy cheeked reindeer) are key.
Red and white Scandinavian-inspired crockery, as seen at Sainsbury's (0800 636262; www.sainsburys.co.uk), sets the tone when family and friends come round to dine. "The Happy Holiday tableware range is an effortless way to dress your table this Christmas," says Hannah Mallett, Sainsbury's Kitchenshop buying manager. "The pattern edge, reminiscent of cross-stitch and knitted snowflake motifs, makes for a festive hit."
The range includes cushions, throws and bedding for a cohesive look. "We've been inspired by the bold and energetic American approach to Christmas. Bright reds and whites combine with hand-written slogans, argyle knits and heart-shaped patterns create a modern and vibrant Christmas look," adds Anna Sheppard, seasonal buying manager.
At homeware boutique Adventino (01529 307812; www.adventino.co.uk), prancing deer decorations, pine-cone candles and twinkling pearl light garlands create a charming effect. "It's easy to be inspired by winter scenes outside when you're decorating," says Amanda Darley, director of Adventino. "From deep, sumptuous green to glossy red and gold, there's something timeless and classic about this style.
"Combining these colours with warm candlelight and carefully arranged lighting perfectly creates a seasonal feel in any room. If you have a fireplace, make this a focal point with gorgeous woodland garlands and beautiful details such as pine cones, nuts and acorns. It's a beautiful way to add a festive touch with nature's best creations."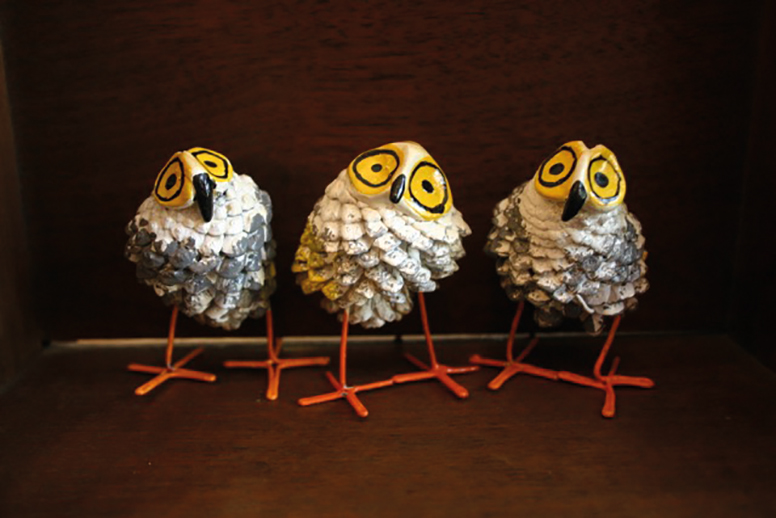 This Image: Quirky finds at Ark Cambridge include these owls fashioned out of pine cones, £7 (01223 363372, www.arkcambridge.co.uk )
Ark Cambridge (01223 363372; www.arkcambridge.co.uk) is a one-stop shop for quirky finds – ideal for a unique twist. "What better way to celebrate the festive season than with woodland animals?" says owner Jane Richards. "Baby hedgehogs, china birds and owl decorations have an innocent charm and are perfect for kids and adults alike. They'll warm anyone's heart this winter."
HomeSense (www.homesense.com) specialises in a luxury look for less and is full of ornaments and decor – think wooden sledges to 'Hunting Lodge' glass cloches – for the ultimate seasonal home.
For a modern take on nostalgia, source decorative accessories from Out There Interiors (020 8099 7443; www.outthereinteriors.com). Owner Jenny Hurran gives her tips: "Christmas is magical. No matter what your age the festive season conjures up memories of childhood, Santa and woodland creatures. I love recreating a winter escape with a tree, comforting reds, golds and greens, a crackling fire and majestic reindeer. The beauty of Christmas is that it's temporary, so indulge yourself and go bold with a festive theme, because it will all be back to normal in January!"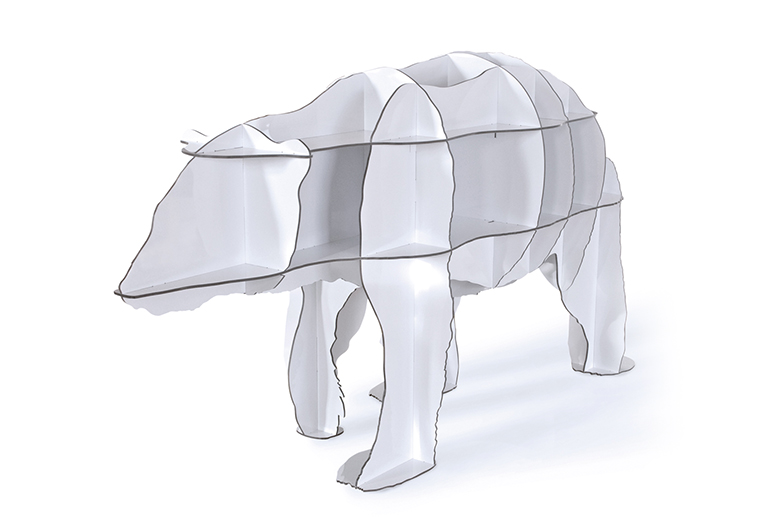 This Image: Channel the animal look with Out There Interiors' Ibride Junior Standing Bear Bookcase, £1,350 (020 8099 7443, www.outthereinteriors.com )