This Image: Colourful, personalised gift sacks, £32, Great Little Trading Company (0344 848 6000; www.gltc.co.uk)
Angelina Villa-Clarke talks decorating at Christmas in this month's feature, The Festive Home
While an all-white colour scheme is the epitome of good taste, the latest trends – as predicted at Christmasworld in Frankfurt (the annual trade extravaganza that happens in February each year and which dictates the way we dress our homes at Christmas) – centre around clashing brights and new neons.
Turquoise, copper, mint and pink pillar candles, for instance, replace the usual white and red wax. While tree baubles, wreaths and garlands, in hues of purple, fuschia and frosted blues, hark back to a retro 1960s Christmas style.
Stocking bright candles and candelabras, Jane Richards at Ark Cambridge (01223 363372; www.arkcambridge.co.uk) is already one step ahead of the trend. "Use luminous colours to create a super-festive, funky home," she says. "We've designed our own candelabras for a perfectly unique look – just imagine your Christmas table lined up with them in beautiful colours. Scented candles with old wine and champagne bottles instead of candlesticks are also proving popular."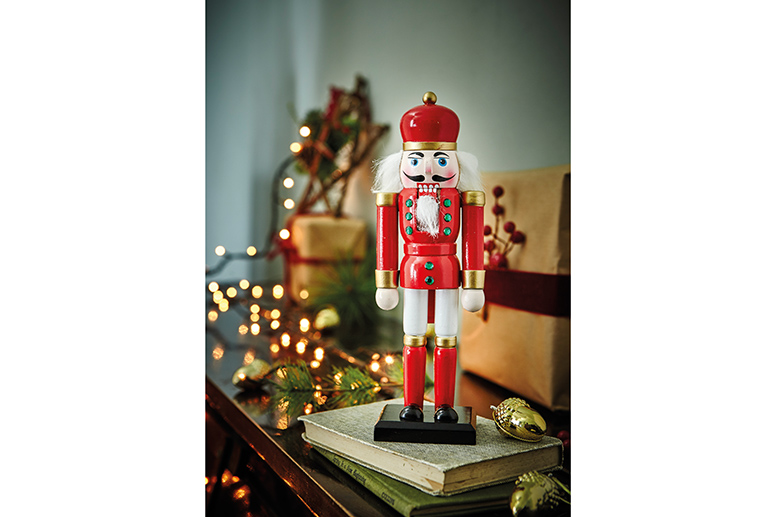 This Image: Wooden Nutcracker Solider, £4, Tesco (www.tesco.com)
Perfect for creating a bright, cheerful scheme are the array of primary-coloured children's stockings, nativity sets and tree surrounds available at the Great Little Trading Company (0344 848 6000; www.gltc.co.uk).
A visit to Tesco (www.tesco.com) is also worthwhile as the supermarket is tapping into the 'bright is best' trend. Stock up on nutcracker soldiers, 'Bar Hum Bug' cushions and oversized tinsel letters for a modern-day look to your festivities. For a bigger investment, but stylish enough that it will remain in vogue all year round, check out the brand's 1970s-style neon pink Jemima Tub Chair (£129) with grey button-back detail.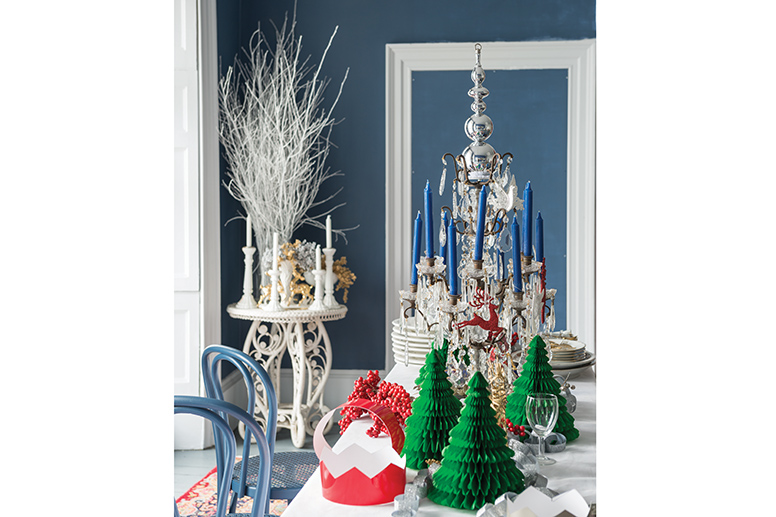 This Image: Farrow & Ball's Stiffkey Blue is used on the walls for a wintery scheme, Modern Emulsion from £42 for 2.5l (01223 367771 www.farrow-ball.com)
Experts in colour, Farrow & Ball, with a store in Cambridge (01223 367771; www.farrow-ball.com), advise that blue – as opposed to reds, greens or golds – is the perfect winter colour to use as a starting point.
Josephine Rance, marketing director, comments: "With the move into autumn comes the approach of Christmas; a time filled with visits from friends and family, and a time when you want your home to look and feel warm and inviting. Blue is a colour strongly associated with winter and Christmas, and it can really reflect festive cheer. Choose a strong, warming shade like Stiffkey Blue or Hague Blue. The depth of this colour creates a fashionable and contemporary interior that remains inviting. Team with silver and gold accessories and you'll be well on the way to creating the perfect environment for celebrating."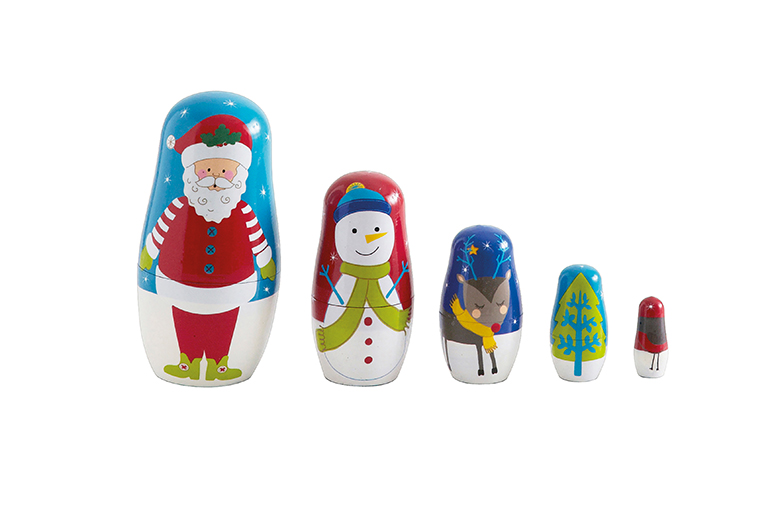 This Image: Christmas Russian Dolls, £16, Great Little Trading Company (0344 848 6000, www.gltc.co.uk )