This Image: Sink into these faux-fur bean bags, from £71.99, Bean Bag Bazaar (0800 988 1286; www.beanbagbazaar.co.uk)
Angelina Villa-Clarke talks decorating at Christmas in this month's feature, The Festive Home
There's more to the festive season than just glitzy Christmas decor. For the ultimate retreat, make your home comfortable and cosy as the nights draw in and get colder. Layer soft velvet throws, like those at Ragged Rose (01622 812897; www.raggedrose.com), with Nordic Reindeer Hides underfoot, available at Scandi Living (01428 608050; www.scandiliving.com). Add in Alpine-themed or Noel-festooned cushions from Jan Constantine (01270 821194; www.janconstantine.com) and light scented candles like Cosy By The Fire or Sparkling Snow from Yankee Candle (0117 316 1260; www.yankeecandle.co.uk).
Interior designer Joanna Wood's store (020 7730 5064; www.joannawood.co.uk) is an excellent source of faux-fur throws, quirky cushions and draught excluders. "I love being able to light a spiced orange or ginger candle and get out lots of lovely wool, alpaca and faux-fur throws to stay warm and cosy," she reveals. "I like to use lots of rich colours, including reds, oranges, pinks, greens and purples to create a comforting palette."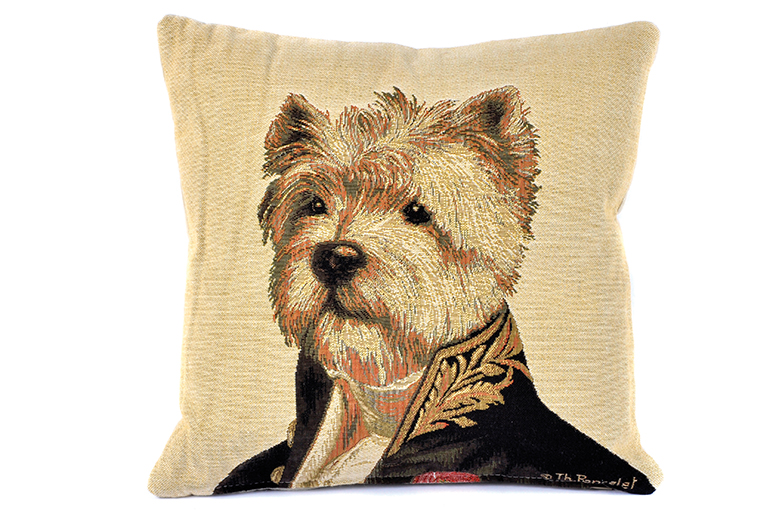 This Image: Joanna Wood's Westie Cushion, £43 (020 7730 5064; www.joannawood.co.uk )
Velvet armchairs and sofas in bold, jewel hues, like those at Sofa.com (0345 400 2222; www.sofa.com), make for a bold yet timeless statement. Sofa Workshop (0800 230 0048; www.sofaworkshop.com) has collaborated with Liberty to create the Ives chair, which uses Liberty's Secret Garden fabric collection. Megan Holloway, marketing manager at Sofa Workshop, says: "Classic golds and silvers are great for Christmas, but look at the wider spectrum and introduce bright punches of colour. Decorative furniture and accessories with contrast will create a cosy environment for welcoming family and friends into. Tactile textures are key this Christmas and the soft velvet of the Secret Garden Collection collaboration with Liberty is a great choice for a luxurious look."
Another interiors collaboration, fitting for the season, is Brintons (0800 505 055; www.brintons.co.uk) pairing with Timorous Beasties. A leading manufacturer of high-quality design-led woven carpets, the brand has created stunning designs with the help of the cutting-edge Glaswegian design duo. Inspired by drawings of wood grains, as seen in the Grain du Bois, and geometric texture and floral shapes, in Linen Damask, the results are modern, swirling carpet designs.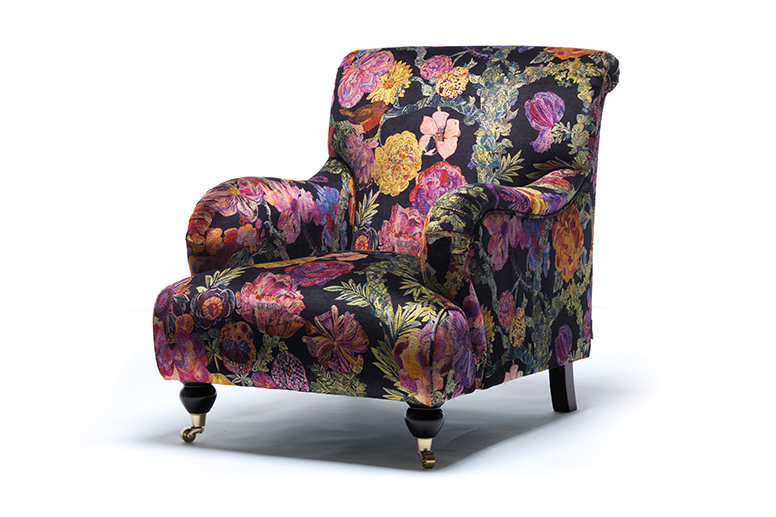 This Image: Sofa Workshop created the Ives chair in collaboration with Liberty, using their Secret Garden fabric, from £1,899 (0800 230 0048, www.sofaworkshop.com )
Jay Ralley-Jones, head of Brintons' Design Team, confirms the new trends: "For years plain carpet has been the carpet of choice, but for AW15 we are seeing a return to patterns in on-trend pinks and purples."
Dial up the cosy-factor by investing in a wood-burning stove, like those available from Morso (www.morso.co.uk). Cushions, throws and bean bags, like those available at Bean Bag Bazaar (0800 988 1286; www.beanbagbazaar.co.uk), give the ultimate wintery feel. Bean Bag Bazaar's creative director Jayne Dolder says: "When it comes to cosy nights indoors, aim to create a living space that is so inviting that you long to come home to it. An easy style update is to add a few matching accessories to your existing furniture. Choose a luxurious texture such as faux fur for cushions, throws and bean bags, and your living space will instantly become the heart of the home; full of warmth and ready for relaxation."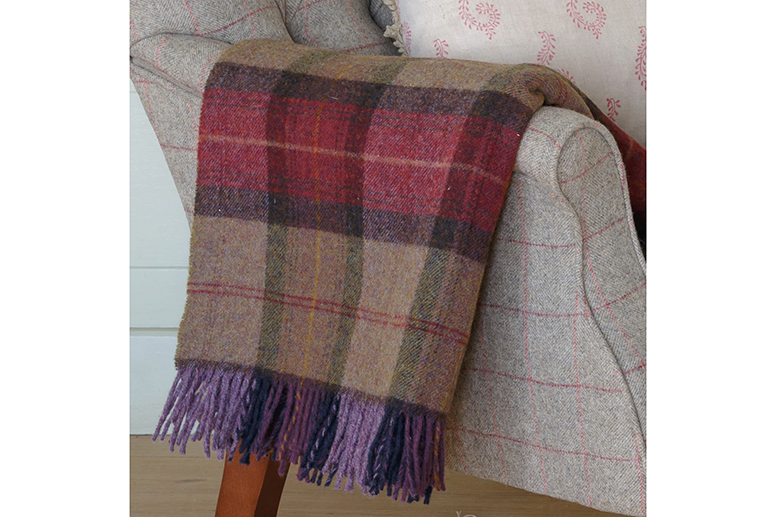 This Image: Visit Susie Watson Designs for tartan Shetland Wool throws and Christmas sacks (BELOW) (0844 980 8185, www.susiewatsondesigns.co.uk )
Take a style lesson from New England inspired homeware brand Lexington Company (www.lexingtoncompany.com), which uses a mix-match approach, with traditional plaids, stripes and checks, in their home accessories. Creative Director Kristina Lindhe reveals more: "I took a winter tour in the Adirondacks years ago. That's what was in my mind when we created our Holiday Collection. Inspired by thick deep snow, fir trees, secret hideaways with fireplaces and beds for a long night's sleep – the perfect holiday escape in a winter wonderland."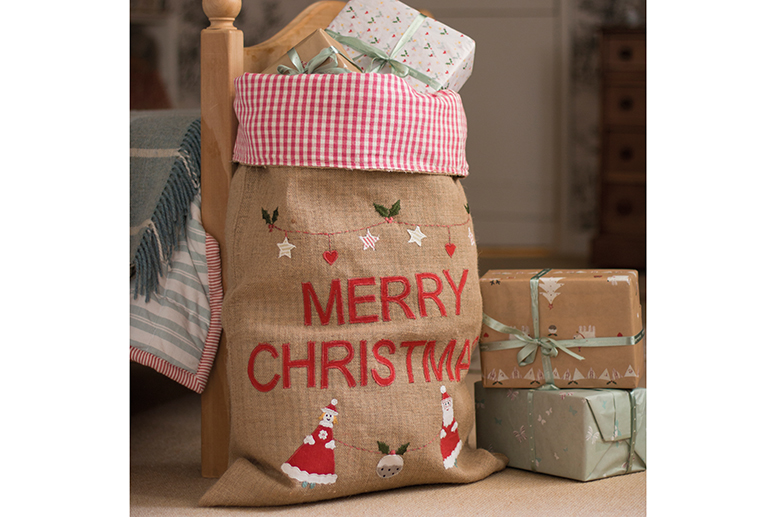 Pop into Susie Watson Designs in Cambridge (0844 980 8185; www.susiewatsondesigns.co.uk) and admire their range of home accessories, gifts, pottery as well as a unique Christmas collection. Giving her advice, Susie Watson says: "Rich colours and soft textures create an intimate Christmas setting. Combine soft velvet cushions in deep purples and greens, with a Shetland wool throw in complementary colours for a really inviting sofa that you won't want to leave."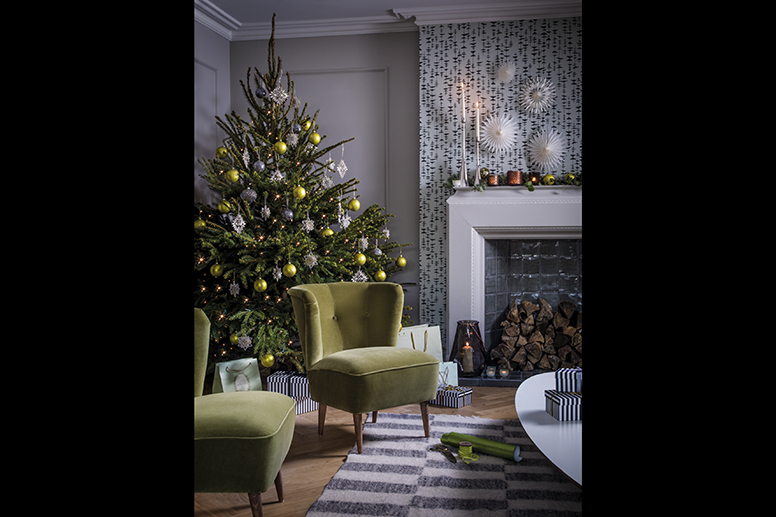 This Image: Create an elegant living space with Sofa.com's modern take on mid-century design with the Betty Cocktails Chair in olive velvet, £460 ( www.sofa.com )