Ruthie Collins gives you the lowdown on arty happenings around Cambridge in April
April is a fantastic month for that springtime fix of culture, with the Cambridge Literary Festival, one of my favourite events in the local calendar, arriving in full bloom each year.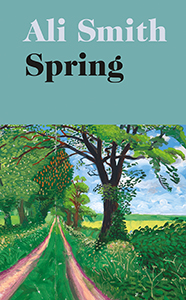 Watch out for Ali Smith (above) in conversation on Spring, the third volume in her seasonal quartet, or see her offering up the best debut writers on 7 April. You can also check out George Monbiot's 'A Plea for the Planet' on 5 April: a talk on how only radical action will save our planet – and us.
It's also a chance to catch Kip Gresham's The Art of Collaboration at the Heong Gallery, which runs until 19 May. This 'hero of art midwifery', has collaborated for more than 40 years with many greats, helping them create prints; in itself an unsung medium for art. The resulting show is a mind-blowing collection of works, including Antony Gormley, Cornelia Parker and Eduardo Paolozzi.
It opened to a rapturous response last month, with a thought-provoking speech from Gresham himself that was a poignant reminder that behind great works of art is often a series of collaborative relationships, friendships and an ecology of mutual support. As Alan Bookbinder writes in the show's catalogue, collaboration is 'a meeting of minds, an opening of new artistic doors'.
Printmaking itself is a versatile way of making work that Gresham describes as 'very cool.' Collaboration, an art in its own right. This is a beautiful show, carefully executed – go see. While at the Heong Gallery's opening for the Art of Collaboration I met Michael Bravo, author of North Pole: Nature and Culture, which was published in December last year – an exploration of 500 years of the North Pole. As our world warms, the poles are an increasingly vital barometer of change.
Indeed, it's easy to feel like our world is increasingly polarised, in current times of algorithms and divisive politics. "I'm curious about what we think poles are and why we think the poles matter," Bravo tells me. "The future of the poles matters, because we think about the future. They are about the planet as our home. The poles hold the world together." What does polarity mean to you?
---
"Despite all the precariousness, art making is wildly rewarding"
---
Working as an artist can often feel extreme. You are trying to make a living in precarious conditions. Pay can be low. Commissions and projects are not guaranteed. It is competitive. Friends are often your boss, or colleagues, so boundaries are often horribly blurred. It's a lesser appreciated part of the art world, the need for collaboration and support. How we as professionals navigate all this is a personal choice – there is no code of conduct, no regulations that say we should 'play nice'. But personally, how else would you want to?
When anxiety levels among artists are often (perhaps invisibly) cripplingly high, these issues affect many, yet are little discussed. Well-being in this sector is often something the arts are viewed as creating – check Cambridge Community Arts for their fabulous creative courses – but not an element of the arts that we should be thinking about, as professionals. So how to address this?
The Arts Council is offering surgeries (yes, actual face-to-face support!) this month on the 9th, 23rd or 30th in its Cambridge offices; the chance for you to talk through projects with a relationship manager. This advice is like gold dust and has long been unavailable, due to cutbacks – so snap this offer up – email SEProjectGrants@artscouncil.org.uk for information, or to book a slot.
Networking is key for building contacts and working relationships – Cambridge Arts Network hosts an annual conference that is vital for bringing together the arts community, this year, themed on collaboration, no less – you can find out more information on CAN at cambridgeartsnetwork.com. Meanwhile, the Cambridge Artists' Union is an active branch that advocates in the city, pioneering better pay and better working conditions for artists – you can find out more at artistsunionengland.org.uk.
There is no end of creative meet-ups in the city itself, from Cam Creative, a creative industries network, to more leftfield socials, such as those held at art space St Barnabas Press, which has started hosting monthly Warholian art parties (with a champagne tower, no less) called The Factory. If you feel like current networks aren't really meeting your needs, why not start your own? Art is about collaborating, after all.
Because despite all the precariousness, art making – the people you meet, the collaborations, especially in Cambridge, a place full of imaginative, quirky, fascinating people – is all wildly rewarding. As Gresham says, "The day to day reality is one of dirty hands, bad backs, beautiful colours, seductive papers and above all, surprises from the artists, those magicians. That's why one does this stuff. This Is Important."