This image: Langtry fitted furniture, prices vary
Angelina Villa-Clarke talks to the experts to reveal the latest trends and how to achieve the perfect bedroom sanctuary

Lovely Luminosity
Serenity is all-important in the place where we end and start the day, and lighting is key to this. A stand-out ceiling fitting, such as a chandelier or modern pendant, will give the wow factor and dimmer switches mean you can create different moods.
Søren Ravn Christensen, chief creative developer at VITA Copenhagen, says: "A central, stunning pendant lamp is key to any interior design. Just like a piece of jewellery, it can create a powerful design statement. Consider style, shape, size and colour when choosing the centrepiece light in a room."
Adding in different layers of illumination with bedside lamps or reading lights, which are practical choices if there are two of you, can heighten the ambience. Smaller pendant lights, like the Cask model at Bert Frank, hung either side of the bed are currently in vogue, while the Swiss Oak lamps, from MOS Furniture, have neon flock internal surfaces to create coloured circle patterns from the light giving a gentle glow to the room.
"In the bedroom it is particularly important to choose several light sources for different functionalities," says Sarah Lister, director at David Hunt Lighting.
"A bedside or wall light creates ambience and is perfect for reading, while This image: Bert Franks' Revolve Table Lamp, £79
an overhead light is bright enough for dressing. To create a cosy and intimate atmosphere, try placing reading lamps on either side of the bed. For table lamps, opt for tinted low-wattage bulbs to mimic candlelight."
Revealing the latest trends in bedroom lighting is Diane Simpson, lighting buyer at John Lewis: "We've seen some beautiful, ornate lighting using mixed materials and wonderful coloured and smoky glass finishes over the past few seasons. This year, we've seen a growing trend of customers wanting well-designed lighting made from natural materials such as raw wood and polished concrete. The emphasis has moved to a focus on using high-tech design techniques on raw base materials to create lighting that can work in any interior space, be it classic or modern. There is still very much a trend for using bold colours and pattern, but the quality of craftsmanship and beauty of using raw materials is at the forefront. This is something we feel the market is moving towards and will be relevant to the customer for the coming season."

Sensible Storage
Having ample storage is vital to creating a decluttered aesthetic and therefore a calm environment. Due to its practicality, fitted bedroom furniture is having a renaissance and is perfect for rooms with alcoves or odd-shaped walls. Add personality by mixing and matching quirky bedside tables or a vintage dressing table.
"It's all about using every spare inch of space for storage," says Mark Law, managing director at Law & Lewis Joinery of Cambridge. "Clever, fitted wardrobes including pull-down hanging space to take advantage of full room heights, lighting fitted into wardrobes so you can see into dark corners and ingenious shoe and handbag shelving to keep everything in perfect condition with easy access are all really great."
Another expert in fitted bedrooms is Langtry Fitted Furniture, also in the Cambridge area. The company offers a range of different styles, all made to fit individual bedrooms. Owner Tony Jones comments: "Our bedroom storage is fitted from floor to ceiling so it makes the most of a room's space. Sleek designs are popular at the moment, with natural colours – cream and grey – our bestsellers. Another trend are designs that feature coloured glass in the doors."
For more traditional, stand-alone cabinetry then turn to John Lewis of Hungerford. Its range of painted wardrobes and bedside cabinets means everything has its place but is hidden from view.
This image: Pure Bedside Table

This image: Cambridge Sunblinds' stylish shutters
Accent Touches
Finally, pulling a look together are those all-important finishing touches. Source sumptuous carpets from The Carpet Mill or from leading specialists Brintons.
"Carpet is perfect for creating a cosy bedroom," says Natalie Littlehales, consumer marketing manager at Brintons. "The texture of wool coupled with a warm colour or pattern is a great way to build a comfortable scheme. We have seen a surge in demand for our Bell Twist Rosebud carpet. A luxurious shade in a hard-wearing weave, it pairs perfectly with grey furniture and accessories."
Dress windows with luxurious fabrics made into flowing curtains, such as those available from Sandberg or Harlequin. If budget allows, fit wooden shutters or roller blinds underneath for a practical touch.
Fiona Garwood, director at Cambridge Sunblinds, gives her insight: "White and cream wooden shutters are popular. Giving a classic finish, they filter the light and give privacy. We also have a fabulous range of Roman blinds. Printed designs, with birds and butterflies, in grey, natural and duck-egg blue, are on trend. These can be supplied with blackout lining and give a warm, cosy look. If you don't know where to start, we offer a free measuring and estimating service, where we bring samples to your home, and help you find the perfect choice."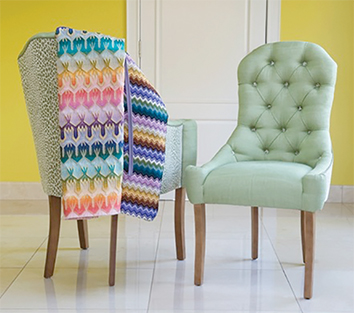 Added touches, such as throws – the merino wool versions at Janie Knitted Textiles are super luxe – and fine bed linen, like the Beardmore Egyptian cotton range by Sheridan, give a welcoming feel. Statement pieces of furniture also give personality. Visit Rachel Bates Interiors for inspiration.
"The Horatio carver chair makes a smart, cosy addition to any bedroom," Rachel says. "The world's your oyster when choosing upholstery, trims and wood finish. We can bespoke the chair to your requirements creating a statement piece for any scheme."
Championing British design, Mineheart is a great source of eclectic finds. John Mabhegede, Mineheart's commercial director, comments: "One of the emerging trends for 2016 is the use of feathers for interior decoration and as motifs in pattern and textiles. The Mineheart Feather Table Lamp is the perfect way to introduce this trend. These glamorous feather lamps feature luxurious black or white ostrich feathers held in place by a gold metal wire frame. Soft and delicate, the lights are reminiscent of the elegant feather boas and decadent hats of days gone by, but the design is totally contemporary."
Above image: Rachel Bates' customisable Horatio chairs, from £1,400