Andrew Webb offers up some inspiration for a home-cooked feast, perfect for a romantic dinner à deux this Valentine's day
Valentine's Day evening must surely be one of the most unromantic times to eat out. A meal 'enjoyed' in close proximity of dozens of other couples, none of whom you must look at but whose every word you can hear. If that's your thing, good luck; if not how else should you mark the occasion? Fire up the stoves and cook something special at home I say. After all, the way to someone's heart is through their stomach.
Sadly, no foods are scientifically proven to work as aphrodisiacs. But that doesn't mean that good food can't kindle romance. Here are some suggestions for dining à deux on Valentine's night.
Sharing Shelfish
Reputedly enjoyed in great quantities by the great lover Casanova himself, oysters are synonymous with seduction. Plus you look cool shucking them open yourself (though you can have this done if you'd prefer).
If you don't like raw oysters, try other shellfish such as clams, mussels or scallops: just top with butter, parsley and breadcrumbs before cooking under the grill. Lowestoft-based Crystal Waters fishmongers are at Cambridge city centre market on Wednesday through to Saturday, and have a large stock of rock oysters, as well as the smaller, but just as tasty, native variety fresh from the Essex coast. Also, did you know Loch Fyne on Trumpington Street have a fresh fish counter? They sell beautiful British lobsters, whisky-smoked salmon, langoustines and, of course, fresh oysters and mussels from their eponymous Scottish loch. Finally, Mill road's Sea Tree can order in wet fish for you.
Crystal Waters 01502 586866
Loch Fyne, 37 Trumpington Street
CB2 1QY 01223 362433
Sea Tree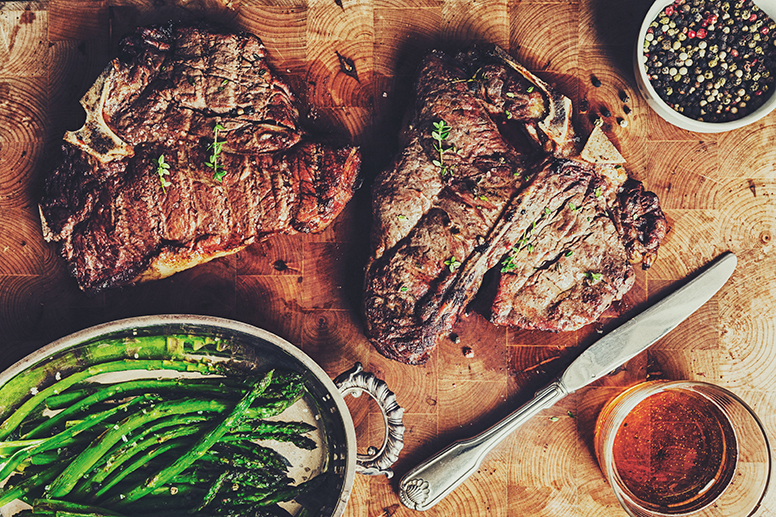 Steak Acclaim
If you're planning on a meaty menu then nothing beats a big, well-hung piece of steak, such as a T-bone. The beauty of this heart-shaped cut is that it's really two steaks in one with a T-shaped bone down the centre, hence its name. On one side there's a piece of fillet, on the other, a sirloin, allowing you to share a bit of each. Here's how to cook it.
---
"Nothing beats a T-bone if you fancy a meaty menu"
---
Firstly, season with plenty of fine sea salt and get your pan smoking hot. Using a pair of tongs hold the white rind of the steak against the bottom of the pan for a few minutes to release a little of the fat, before allowing the flesh to hit it. Flip every 60 seconds and cook for around 3-4 minutes for medium rare, or 5-6 for medium. During the last minute, 'dress' it by adding a tablespoon of butter to the pan and allow it to foam. Rest, then serve with a green salad and a horseradish and mayonnaise dressing.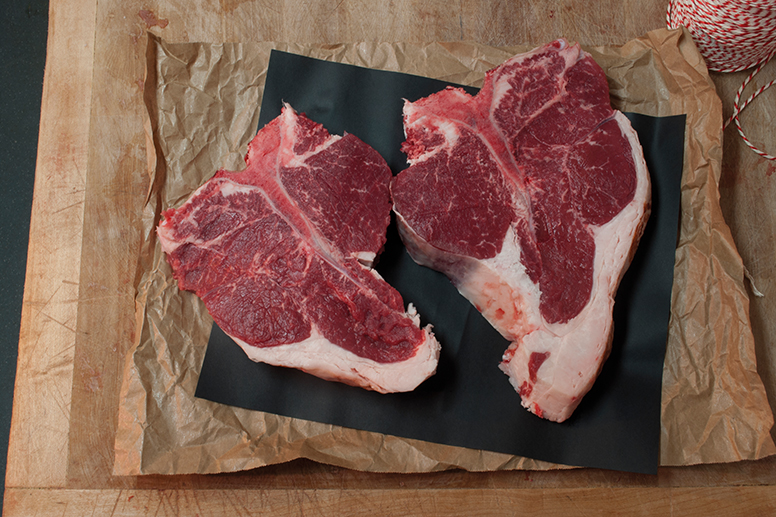 ---
Special Offer
Gog Magog Hills Farm Shop are offering readers a T-bone steak and a bottle of house wine for just £15. Simply quote Cambridge Edition offer when purchasing.
---
Most good butchers stock T-bone steaks. I really like the ones from butcher Oliver Anstee at the Gog Magog Farm Shop. They're produced by Ollie's father, Frank, who farms British Blue cattle at the family farm near Ashdon. While you're there, you could also pick up some of their beautifully decorated Valentine's shortbread biscuits filled with jam for an easy, but tasty pudding.
Gog Magog Hills Farm Shop
CB22 3AD 01223 248352
Pasta Passion
If you're small on budget, but big on romance, then go for a classic Italian ragu or Bolognese sauce. Here's how I make mine; first gently sweat finely chopped onion, garlic, celery and carrot in a 50:50 mixture of butter and olive oil until soft. Remove the vegetables and set aside, wipe out the pan and add more oil and 500g minced beef and about 200g minced pork, but don't overcrowd the pan. Sauté until brown then return the vegetables and add passata, plum tomatoes and wine. Season with salt and pepper and place in a 120°C oven for 3 hours or more to slowly cook. The beauty of this dish is you can do all this prep before your sweetheart arrives, then simply boil the pasta and open the wine.
Traditionally, Bolognese sauce is always served with tagliatelle rather than spaghetti, but if you do want to recreate the classic scene from the Disney animated film The Lady and the Tramp, Balzano's on Cherry Hinton Road stocks the extra long spaghetti you'll need.
Balzano's, 204 Cherry Hinton Road 01223 246168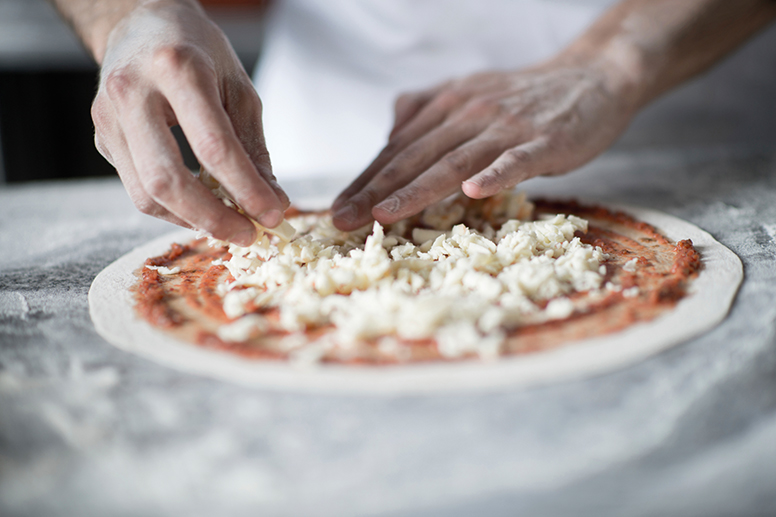 Pizza the Action
An easily prepared, budget option is pizza. You can make your dough hours in advance or even the night before, then fool around with the flour in the kitchen as you shape and knead it.
Visit Limoncello to pick up genuine Italian toppings such as buffalo mozzarella and some slices of the classic salami – they also sell freshly-made packs of pizza dough, ready to roll. While there, choose a selection of antipasti such as stuffed olives, anchovies and seafood salad too
Limoncello, 212 Mill Road CB1 3LF
01223 507036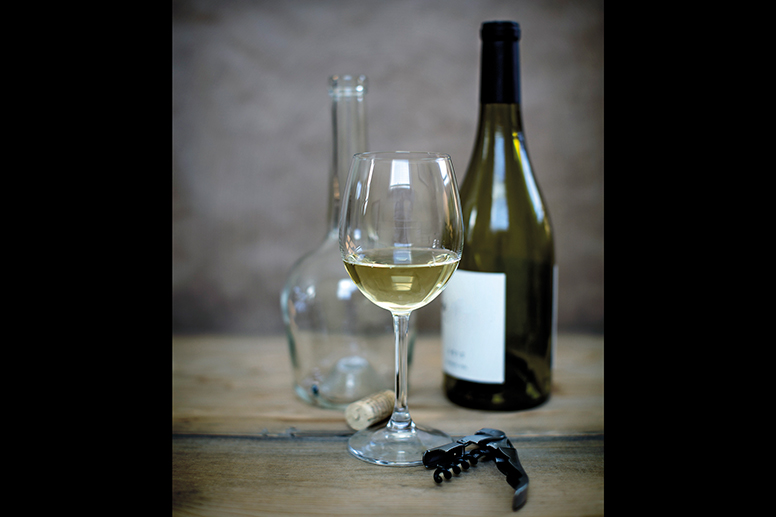 Drink to Me Only With Thine Eyes
So you've decided on your menu, but what to drink with it? I asked James Thorne of Cambridge Wine Merchants for some romantic recommendations, all around the £15 to £20 mark. First up, fizz.
Their Joseph Perrier Brut Rosé NV Cuvée Royale is an incredibly pretty pale rose colour, and would be great on its own or with seafood. For something a little different, try Jansz Premium Cuvée NV Brut from Tasmania. James reckons it's up there with the best of champagne and it's cracking value too.
To serve with more meaty dishes, James recommends Tim Smith Wines Bugalugs Shiraz 2014 Barossa, which delivers rich, full bodied and juicy fruit flavours along with soft tannins making it dangerously easy to drink. Another option is the Vondeling Cabernet Sauvignon 2013, a broad, succulent and silky wine with plenty of red fruit, smoky cigar box, roasted almonds and maraschino cherries.
Finally, a pretty pink sticky drink in the form of Warner Edwards Harrington Rhubarb Gin 75l (£35). Northamptonshire-based Warner Edwards have created this fruit-based gin, which tastes equally beautiful whether blended with tonic in a martini or served on its own, giving a burst of rhubarb flavour without being too sweet. It's wonderfully vibrant and perfectly balanced.
Cambridge Wine Merchant
01223 309309
Asian Inspiration
If you lack both time and confidence in the kitchen and fancy something spicy then you could always cheat a little and order in. Inder's Kitchen do a range of classic Indian dishes which can either be bought frozen and cooked at home, or ordered in hot and ready to eat. Try the mutton laal maas, a spicy red curry from Rajasthan made with chilli and yoghurt, or the Goan king prawn balchao with red chillies. There's even dishes under 500 calories for those of you still sticking with the new year diet, as well as vegetarian and gluten-free options. What's more, every order on Valentine's Day comes with a free pudding for you both.
Inder's Kitchen 01223 211333
Happily Ever After
So, the menu's decided, the recipes are ready, anything else? Well I'll leave the final thought to Relate ambassador and UK Dating Expert of the Year, Susan Quilliam. "My top tips? Make the setting for your food as sensuous as possible – a beautifully laid table, some romantic music in the background, seating close enough to touch. Make as much of your food in advance as you can – after all, the focus is on the two of you, not on the act of cooking – unless of course you're cooking together, which can be a lovely way to bond as a couple. And if what begins in the kitchen, and continues into the dining room, ends in the bedroom, then that's lovely too!"