Images by Daisy Dickinson
This month, Nicola foley samples the colourful cocktails and Thai street food on offer at Thaikhun
Thaikhun became an instant hit on the Cambridge dining circuit when it opened back in June last year, luring in local foodies with its enticing Thai street food menu, fun atmosphere and prime riverside location. The brainchild of Kim Kaewkraikhot, a Bangkok 'street hawker' turned entrepreneur, the restaurant's colourful and charmingly rustic interior is bound to bring back fond memories for anyone who's visited Thailand.
A bright orange tuk-tuk greets you at the entrance, after which you're ushered into the higgledy-piggledy dining area, where every inch is covered in birdcages, sacks of rice, film posters and other Thai knick-knackery – they really have gone all out on the decor.
Like the restaurant, the menu is packed to the rafters, overflowing with dishes that range from soups and salads to curries, stir-fries, rice and noodles, pinto boxes and grilled meats. There's an interesting drinks menu too, featuring iced teas, smoothies and a selection of Thai cocktails. To kick things off, on the recommendation of our waitress, I went for a Full Moon cocktail: a blend of vodka, orange liqueur, watermelon, apple and cranberry – it tasted like sweeties and came garnished with flying saucers, making it a total winner in my book.
---
"Like the restaurant, the menu is packed to the rafters"
---
There's lots of tempting starters to choose from, but I couldn't resist the Plamuk Tod Prik Kleur (salt and pepper squid). Beautifully seasoned and with just the right balance of crunchy exterior and succulent interior, the flavoursome chunks of squid came served in a basket lined with Thaikhun Times newspaper – very cute – and a choice of sweet chilli sauce and sriracha. My dining partner, a vegetarian, was pleased to have a few solid options to choose between, and went for the sweetcorn cakes with red curry paste and aromatic kaffir lime leaves, served with chilli dip, which added a nice kick of heat. Generously sized, cosy and comforting, it made for the perfect antidote to the freezing January evening we'd escaped.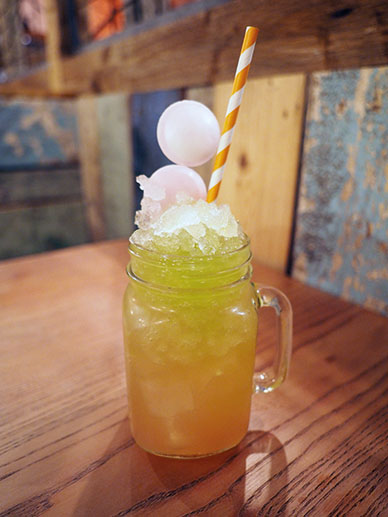 For mains, I went for one of the regional specials, the Khao Ka Moo. I'd sampled this dish whilst travelling in Thailand – where it's ubiquitous among the street vendors – but it's not a standard feature at Thai restaurants in the UK, so I was excited to give Thaikhun's version a try. I wasn't disappointed.
The (huge) serving consisted of pulled pork on a bed of steamed rice, served with steamed greens and topped with a boiled egg. The freshness of the greens nicely cut through the fattiness of the meat – which had been slow braised in a spiced broth, making for a flavoursome and tender finished product.
My veggie friend went for a classic: Pad Thai with tofu. A staple of Thai cuisine, all too often you experience a law of diminishing returns with this dish, simply because there's not enough variety going on to keep it interesting, but Thaikhun's take managed to swerve this problem. A bit sweet, a bit salty, a bit spicy and completely delicious (exactly as it should be), the dish was loaded with colourful carrots, broccoli, spring onions and came with a liberal serving of peanuts and plenty of chunks of firm tofu. Another winning dish.
For desserts, we both chose the Pancake Sankaya – which prompted a flurry of excitement at our table when they arrived, on account of their fluorescent green appearance. These traditional Thai pancakes came with pandan custard (a kind of vanilla, almond flavouring popular in Asian cuisine), and with a dollop of ice cream, an orange slice, slivers of strawberry and a zigzag of chocolate sauce – making for a very colourful plate indeed. Slightly wacky looking but addictively tasty, and I'd bet my bottom baht that any kids will go nuts for it.