It's been a busy time at foodPark HQ, with new openings and collaborations to savour
There's lots of exciting news to report from foodPark, our city's nomadic street food collective, as they announce brand new pitches and some rather exciting collaborations.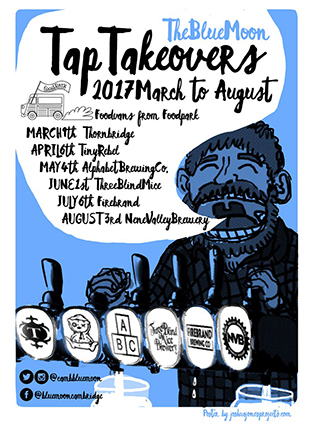 Last month saw the launch of Tap Takeovers, a series of boozy special events at the Blue Moon pub which will be running on the first Thursday of every month throughout the summer (6-10pm).
Each month, breweries will be taking over the taps inside the pub to serve up innovative and exciting tipples, whilst outside in the car park you'll be able to pick up delicious street food from Cambridge's top traders.
Coming up for April is a visit from Tiny Rebel Brewing, who'll be showcasing a delectable selection of beers – pop in and try them at your leisure or sign up for the official tasting with expert beer tasters.
On 1 April, meanwhile, foodPark launches their new collab with Cambridge Wine Merchants' newest wine bar, located at the University Centre on Mill Lane. With a gorgeous location overlooking the River Cam, this new event will take place each and every Saturday night throughout April, offering a chance for hungry Cambridge folk to enjoy fantastic street food and great wines from CWM.
From 5pm to 9pm, you'll find the foodPark gang parked up outside the ground floor of the wine bar, with favourites like Buffalo Joe's, The Tin Kitchen, Holy Schnitzels, Churros Bar, Guerrilla Kitchen, The Wandering Yak and newbies Kura Kura all making appearances.
All you need to do is grab something delicious to eat and a glass of wine, fizz or beer, then decide if you want to eat inside the retro lounge bar or go and relax out on the grass by the Mill Pond. Sounds like Saturday evening perfection to us!