A laughter fest is coming to a new one-day comedy festival
May sees the launch of the Cambridge Fringe Festival: a huge, free, multi-venue event that will showcase some of the most exciting comedy talent on the scene. Taking place on Sunday 6 May, the event is hosted by three local stand-up comedians and will feature 28 shows in total, taking place across Mitcham's Corner venues The Portland Arms, The Boathouse and Thirsty.
Cambridge's answer to the Edinburgh Festival Fringe, it will showcase a mixture of genres including stand-up, improv, musical comedy, political comedy, storytelling and kids' shows.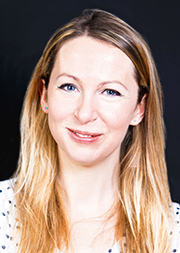 Highlights are sure to include the racy humour of Tanyalee Davis and multi-award winning Welsh comic Jenny Collier (right) will be in town too, along with Robyn Perkins and Cambridge's own Adele Cliff (above), to name a few.
"I'm putting on this event to bring a fun and uplifting art form to the local community, that is inclusive and open to everyone, irrespective of their social background," explains founder Ali Warwood. Herself no stranger to the world of stand-up, Ali has been running the popular Commoners' Comedy night in Cambridge for over three years, at which she serves in an always-hilarious compère role.
"I wanted to lure in top comedians from all over the UK to our little city to entertain us for free/cheap, and to give local comedians and performers a platform to showcase their comedy in a festival atmosphere to develop their craft."
The event will be the first of its kind in the city, bringing together a diverse mix of genres, from the witty political commentary of Rahul Kohli (below) to the masterful storytelling of Matt Price, via Zahra Barri, who Ali describes as the "poshest filth bag you will ever meet".
"It's going to be a great day out to see the Edinburgh Fringe shows without having to go all the way up to Scotland," says Ali. "Plus, Cambridge comedy audiences are amongst the best in the world and you need to be a part of it!"
For more information on the event, search FringeCambridge on Facebook, and if you'd like to volunteer on the day, email [email protected].