This image: Fred's House
Jordan Worland, from local music website Slate the Disco, selects his must-see gigs in Cambridge during June
June is a bountiful month for live music in Cambridge. The annual Strawberry Fair on 3 June will showcase a wild range of local acts across its stages, whilst the ever-growing Strawberries and Creem day festival (on the 17th) has arguably its biggest line-up to date, featuring Wiley, AJ Tracey, J Hus and Mike Skinner. There's plenty going on inside our city's venues this June, too.
Our must-see show this month comes courtesy of Real Estate, who play the Cambridge Junction on the 27th. Over the course of three hazy, gorgeous albums, Real Estate have built a reputation for writing perfect pop songs – tracks that merge deft poetic lyrics with lush, irresistible melodies. Their fourth album, In Mind, the follow-up to 2014's near-faultless Atlas, was released in March and only further confirms this gift.
There's an unmissable night of noise on the 7th when legendary Japanese outfit Melt-Banana return to The Portland Arms. The duo, made up of Yako on vocals and Agata on guitar and effects, have liberated themselves from a human rhythm section and are making a noise as powerful and frantic as ever. Guitarist Agata is known for his mastery of guitar effects and extended technique – and for consistently wearing a surgical mask on stage.
Not many bands can return from a debut North American tour supporting rock legends The Who and claim standing ovations at every show to their name. Imagine a mixture of 60s power pop and 70s punk rebellion, then throw in a bit of glam rock as well for good measure and you will get an idea of what to expect from Slydigs. They're at The Portland on the 6th.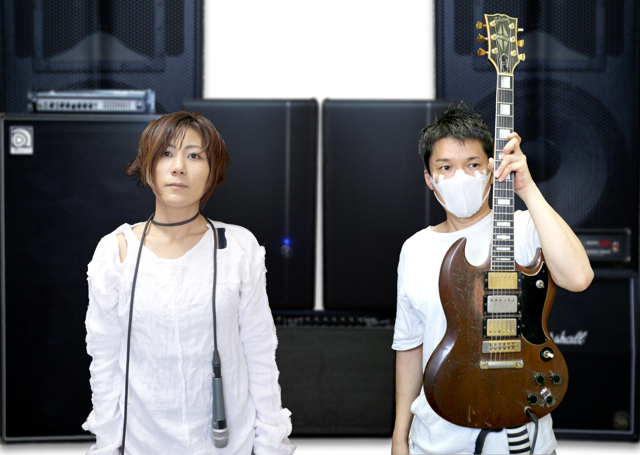 This image: Melt-Banana
Hailing from north-west Arkansas, Joe Purdy is a much travelled folk and rock singer, songwriter, guitarist, pianist, mandolin and harmonica player. Purdy brings his well-crafted and thoughtful folk songs to The Portland on the 9th. The same venue hosts another US outfit this month when blues and psych outfit The Cuckoos play on the 5th. Local West Coast inspired folk outfit Fred's House (pictured) will release new music this summer – their first in a little while. They'll be at The Portland on the 16th.
Ralph Wyld is a prolific young vibraphonist, percussionist and composer; his ensemble Mosaic plays the Hidden Rooms on the 1st. Mosaic comprises critically-acclaimed young musicians, and their exciting and accessible music crosses contemporary jazz with chamber music. Offering a balance between expansive writing and improvisation, and with a vibraphone and cello alongside more traditional jazz instruments, Mosaic's sound is powerful, yet intimate, and certainly different from other groups on the scene right now.
Awarded UK Vocalist of the Year at the Jazz FM Awards 2016, Lauren Kinsella is one of London's most adventurous artists, performing as a soloist as well as a bandleader and involved in several cross-arts projects. She comes to Cambridge with her ensemble to play new music, originally commissioned by Marsden Jazz Festival 2015, at the Hidden Rooms on the 8th.
The Blue Moon hosts an evening of proper underground electro with the Motherchip Connexion – Exploring Forms Of Electro event on the 17th.
An exciting month at the Cambridge Junction includes The London African Gospel Choir performing a seminal record in its entirety. Thirty years after Paul Simon released Graceland, which spawned hits such as You Can Call Me Al, The London African Gospel Choir, backed by live musicians, will perform his album live from start to finish on the 9th. On the 6th, meanwhile, the world of TV is celebrated in an a cappella extravaganza produced and performed by Sons of Pitches, who release their first original album later this year.
Founder member of Del Amitri, Justin Currie, returns to Cambridge Junction on the 2nd with The Pallbearers, touring his recently released fourth solo album, This Is My Kingdom Now. The Skids celebrate their 40th anniversary this year and their tour reaches Cambridge on the 15th.
Unarguably one of the finest singer-songwriters of her generation, Thea Gilmore returns to Cambridge Junction on the 7th. Gilmore's latest album is as ethereal as it is thought-provoking, as bewitching as it is bold – and well worth catching live.