Fantastic fireworks, loads of live music, family activities and much more returns from 7 to 9 July
A hotly anticipated fixture of the summer calendar in Cambridge, the Big Weekend returns this month for three days of fun in the heart of the city centre. Taking place, as always, on Parker's Piece, the organisers are laying on a free, three-day extravaganza of music, entertainment, food, family activities and community celebration from 7 to 9 July.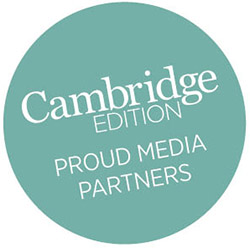 With so much on offer, there's sure to be something for all tastes – and we've got all the info you need to make sure you can squeeze in as much as possible. Here's what's in store…
Friday
As soon as you clock off work on Friday, it's time to party! Make a beeline to Parker's Piece from 6pm for an evening of fab live music which culminates in a huge fireworks display. First up are DJs from local radio station Heart, who'll be playing some crowd-pleasers to get everyone in the mood. Then it's full throttle into an evening of 80s-tastic fun, beginning with Wham!Duran, who'll be reliving the hits of two of the best bands from the decade. A riotous ride through the songs of Wham and Duran Duran, this supremely polished tribute act will be getting the crowd grooving with immortal tracks such as Club Tropicana, Girls on Film and Notorious, to name a few.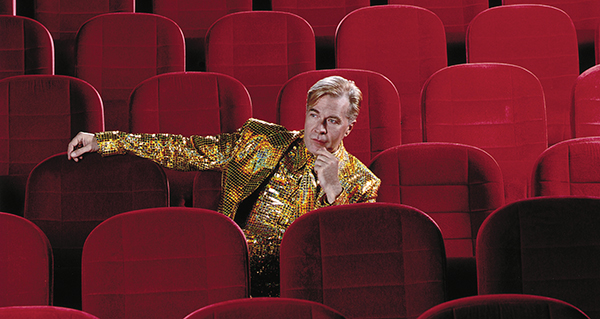 The 80s theme continues with headliners ABC, who take to the stage at 9pm. Fronted by Martin Fry (and his gold lamé suit), these glitzy synth pop heroes are best known for their blockbuster album The Lexicon of Love. Containing nuggets of pure pop perfection such as Poison Arrow, The Look of Love and All of My Heart, this album secured ABC's place in the annals of British music – but they're not resting on their laurels, having released a critically acclaimed follow-up to the Lexicon of Love album just last year.
Once you've danced your socks off, the evening's festivities will be rounded off with a spectacular fireworks display at 10pm.
Main stage line-up
6pm: Heart Radio DJs
8pm: Wham!Duran
9pm: ABC
Saturday
Saturday will be serving up ten jam-packed hours of free entertainment and activities for all. Pick up mouth-watering foodie treats from the French market and grab a drink from the Cambridge Live Bar, then get exploring! Film buffs will love Cinemobile, an articulated lorry which transforms into an enclosed cinema auditorium – they'll be showing top locally-made short films throughout the day. Fancy something a little more active? Check out the Sportzone, which will have all sorts of fun activities and games for every age group over the course of the day.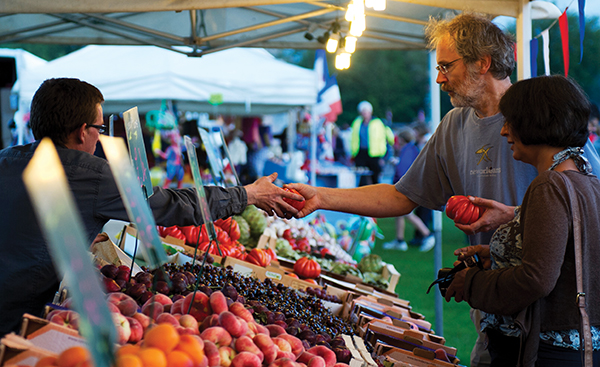 One spectacle not to be missed is the life-sized mechanical elephant – in pyjamas! – who'll be part of a series of colourful musical performances on the Saturday and Sunday of the Big Weekend. The elephant comes to the event as part of the India Unboxed season in Cambridge, which is celebrating the UK-India Year of Culture 2017. This programme of events, hosted by University of Cambridge Museums and the Botanic Garden, features exhibitions, events, digital encounters, discussions, installations and more within the museums and the city of Cambridge – find out more at museums.cam.ac.uk.
There's loads on offer for kids on the Saturday of the Big Weekend, including face-painting, getting messy making and creating in the University of Cambridge's Fun Lab, and enjoying some storytelling and writing tips for budding young writers at The Big Read & Write as part of its project with local primary schools.
An exciting addition to this year's Big Weekend will be the ARM Gaming Hub, an interactive 'have a go' introduction to the world of computer games creation. The Hub will be delivered by Cambridge Regional College's Rizing Games team, including the inspiring students who will be the next generation of leading games developers. Visitors can join in with interactive activities, which will including level design, programming, games design and more. Whether you're looking to study or start a career in the creative or tech industries or just try some cool activities, the Gaming Hub will have something for everyone aged about eight years and up to try out and enjoy.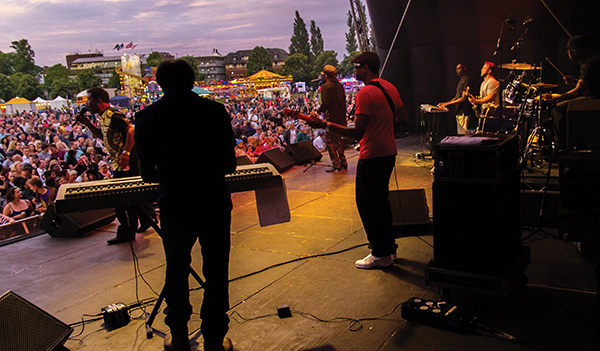 Elsewhere, learn more about French language and culture with Alliance FranÇaise de Cambridge, throw some shapes at a silent disco, and enjoy eclectic entertainment at the Pink Festival Tent. An LGBT festival which has been a well-loved presence in Cambridge for many years, Pink Festival will be hosting comedy, cabaret, music and drag in their marquee including the fabulous Fleurettes, and Cambridge's own LGBT Choir.
Over on the main stage, enjoy the Hungarian folk stylings of Mentés Másként, Cajon box player Heidi Joubert (formerly of Cambridge favourites Ferndando's Kitchen), and Botown, a Bollywood band with a funk and soul twist. There's also music from one of Britain's best loved reggae bands, Aswad, while headlining on Saturday night will be T.Rex featuring original member Paul Fenton.
Get your dancing shoes on and enjoy a glorious glam rock romp through the band's mid-70s heyday, through hits including Get It On, 20th Century Boy and I Love to Boogie.
Main stage line-up
4pm: Mentés Másként
5pm: Heidi Joubert & band
6pm: Botown
7pm: Aswad
9pm: T. Rex feat. Paul Fenton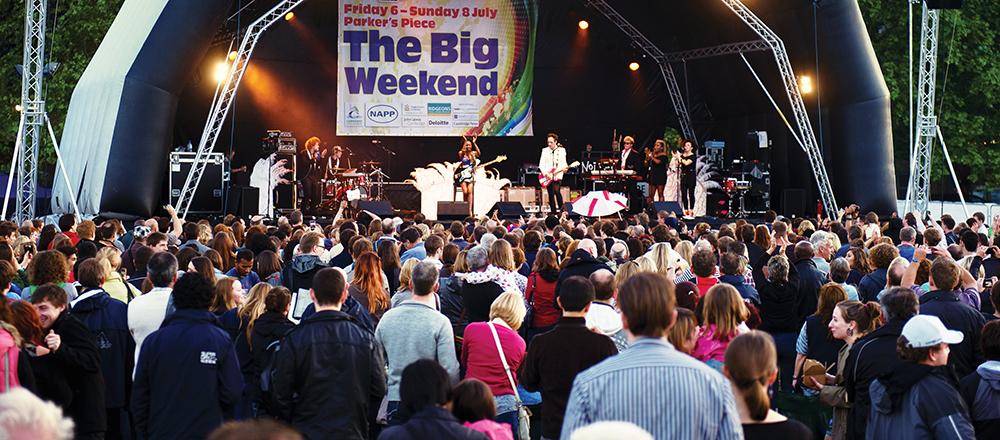 Sunday
Sunday promises to be a feast of sights, sounds and smells as the Big Weekend welcomes back its popular Mela.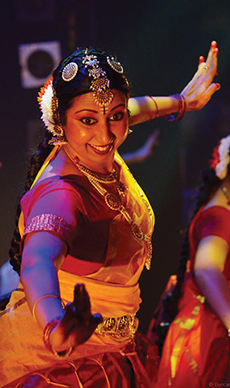 Offering delicious food, dancing, demos and more, the event is a huge, colourful and fun celebration of Asian culture and ethnic diversity. Enjoy classical dance and music from the Sanskruti School of Dance and the Natyanjali Dance School, as well as the Indian Cultural Association. Taste your way around samples of authentic cuisine in the community marquee and browse the treasures and trinkets on offer at the craft stalls.
On the main stage catch hot gypsy jazz from local faves Django's Tiger, and uplifting classics by the likes of Aretha Franklin and Tina Turner performed by eight-piece band Cath Coombs & The Awesome Soul Collective. Also performing is J Royale, who'll be presenting a genre-hopping blend of bhangra, Bollywood, R&B, hip-hop, house and pop. Over in the local bands marquee, meanwhile, there will be sets from Hollowstar, SJ & The Flying Pigs, Dan Wilde, Gravy Train Trio and Sure-Can Playboys. The sports zone and French market will also continue into Sunday. Visit the Cambridge Live website for all the details.
Main stage line-up
3pm: Django's Tiger
4pm: Cath Coombs & the Awesome Soul Collective
7pm: J Royale