This image: Vanessa Arbuthnott
From jewel tones to muted paint colours, there's something for everyone in the latest interiors trends for 2018. What's more, it's never been easier to update your home with the new key looks
Crown jewels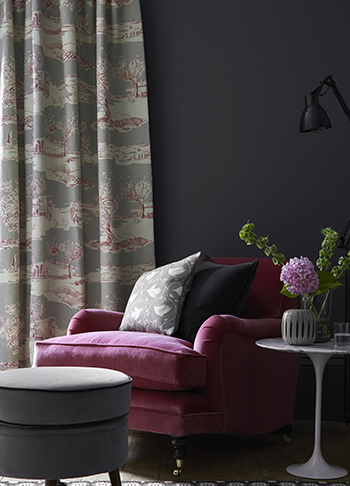 It's time to go bold and banish the grey – the latest colours for the home are vibrant and rich. When it comes to furniture – such as sofas and statement chairs – it's all about gem shades to give a shot of colour. Sofa Workshop's Coco chair, for instance, comes in the appealing-sounding Seduction: a shimmering emerald green. It works gloriously with Andrew Martin's vivid velvet cushions – choose from zingy orange, bright pink or peacock.
You don't have to buy something new to have impact. Consider re-upholstering a favourite piece of furniture in one of Vanessa Arbuthnott's velvets, which come in the most dreamy colours such as mustard, marigold and cornflower blue.
From turquoise glass vases to brightly woven rugs, Kaleidoscope has tapped into the trend for its new season collection. Lucy McGilvray, homes expert at the company, comments: "Jewel tones are a great way to bring the wow factor and add some sparkle into your living space in an inexpensive yet impactful way."
The trend isn't all about bold, flamboyant touches, however. Even lovers of minimalism can give a nod to the theme in the smallest ways. In an all-white kitchen, for instance, you can add a talking point with a beautifully-crafted statement pendant, such as Vita Copenhagen's Asteria. This hovering halo light, with inbuilt LED lights, is sleek and architectural, and available in a range of bright hues such as saffron yellow, ruby red and petrol blue.
Light & dark
Long gone are the days of 'Natural Hessian' being the neutral paint colour of choice. We've also moved on from the myriad shades of grey we all went mad for in the past few years. Instead, there's a whole new palette of warmer tones that look fresh and modern. Soft ice-cream shades such as chalky whites, pastel pinks and 'dirty' lilacs give a pretty effect, and call to mind a
Miami vibe.
Helen Shaw, marketing director at paint specialists Benjamin Moore UK, gives her expert view: "The best way to use a pale palette is to ensure that the tones you use aren't 'weak', they must be a strong neutral – that is able to sit beautifully against any darker tones throughout the home. The trend for integrating more textures within our interior schemes also lends itself beautifully to a paler palette."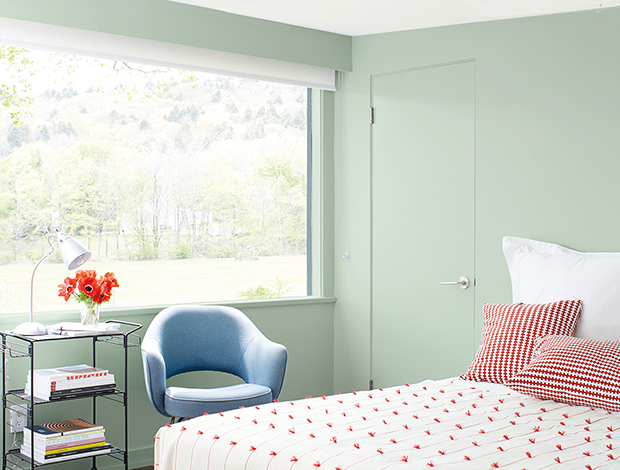 This image: walls in Benjamin Moore's Silver Marlin, from £20.50 for 0.94L
The Paint and Paper Library has long understood the importance of contrasting tones: "Use mid-strength colours at opposite ends of the spectrum to create a strong, contemporary contrast of light and dark tones," says marketing director Ruth Mottershead. "The contrast of light and dark within this combination creates a gentle tension within the scheme."
Drenching your space with light will also enhance the muted shades. Klöeber's anthracite-grey bi-fold doors give a wonderful contrast and a modern touch, not to mention giving a seamless connection to the outdoor space.
These softer new neutrals also work particularly well against glamorous dark woods – especially when it comes to flooring. Amtico's Scorched Timber, for instance, looks aged and as if it was salvaged from a period mansion – but is made contemporary when contrasted with a pastel wall.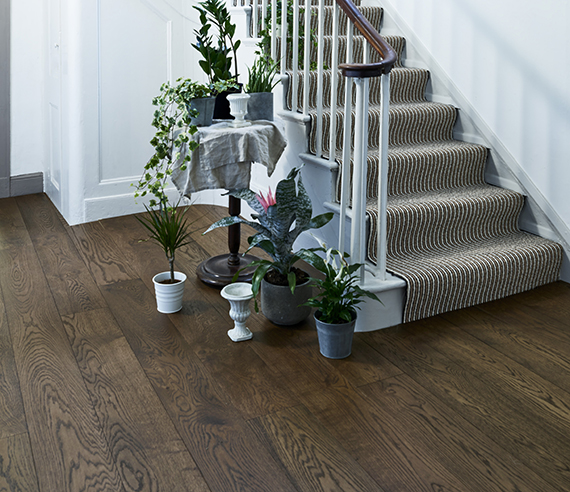 This image: Kersaint Cobb's Duo Living Oak antique flooring, £73.99 per square metre
"Dark woods add a feeling of warmth and depth to a room," says Jenna Kane, marketing manager at flooring company Kersaint Cobb. "Rustic oak flooring has become increasingly popular over recent months, with customers embracing the simplicity and natural beauty of the darker tones available – many of which give a vintage feel."
For those who won't be swayed from carpet underfoot, don't worry – Brintons' 'New Neutrals' range of muted colours is just the thing to give a timeless finish and keep a room cosy and warm.
Wabi-sabi
The Japanese art of beauty in imperfections may be an ancient philosophy, rooted in Buddhism, about accepting the imperfect and transient nature of life – but it is also being reflected in our homes.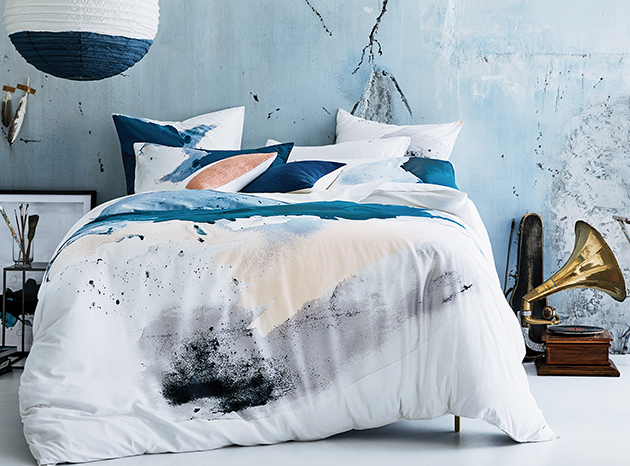 This image: Jarrett bed linen set, £99, from Sheridan Australia
Sheridan Australia's watercolour print bed-linen is casually pretty. "The ancient Japanese worldview centres on impermanence and imperfection," says the brand. "A simple way to achieve the wabi-sabi look is through an imperfectly made bed, which lends a relaxed air to your bedroom. Limit the colour palette to one or two shades to avoid the look becoming too messy."
You can also achieve it with irregularly-shaped handmade crockery, stacks of well-thumbed books and non-symmetrical lighting, such as Christopher Wray's Chopstix pendant. It's all about embracing those well-loved and imperfect things which have meaning, to gain a feeling of wholesome satisfaction.

How to be bold
Eleni Portch, owner of Nisi Living, an online homewares boutique, gives her three tips…
1. Be brave and transform a bedroom by painting the walls and ceilings in a rich amethyst tone. It will be totally cocooning. Add luxurious throws and copper accents to make the room feel truly decadent.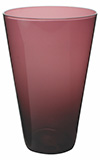 2. If you're not sure about painting a whole room in a bold colour, then opt for a statement piece of furniture, like a velvet sofa, in a rich fabric, and add clashing jewel-coloured cushions for an opulent finish.
3. A quick and easy way to brighten up a space is to display an eclectic mix of primary-coloured glassware – they will look beautiful placed on a console table beside a window so the light shines through the glass.
Images: Red Palla Pitcher, £40, and amber and amethyst glasses, £7 each, from Nisi Living
Stockists
Amtico: 0121 745 0800 amtico.com Andrew Martin: 020 7225 5100 andrewmartin.co.uk Benjamin Moore: 01753 575756 benjaminmoorepaint.co.uk Brissi: 01225 319 058 brissi.com Brintons: 0800 505 055 brintons.co.uk Christopher Wray: 020 7013 0180 christopherwray.com Handpicked by Kate: handpickedbykate.com Kaleidoscope: 0333 200 8018 kaleidoscope.co.uk Kersaint Cobb: 01675 430 430 kersaintcobb.co.uk Klöeber: 01487 740044 kloeber.co.uk Made + Good: madeandgood.com Nisi Living: 01275 390521 nisiliving.co.uk Oka: 03330 042 042 oka.com Paint and Paper Library: 0845 880 5844 paintandpaperlibrary.com Sheridan Australia: 01925 453 410 sheridanaustralia.co.uk Sofa Workshop: 0808 231 1096 sofaworkshop.com Vanessa Arbuthnott: 01285 831437 vanessaarbuthnott.co.uk Vita Copenhagen: vitacopenhagen.com Weaver Green: 0844 414 2155 weavergreen.com