This image: a hand-painted kitchen from Rencraft, kitchens start at £18,000
The kitchen is the hub of the home. Angelina Villa-Clarke talks to the experts to find out the latest trends and how to easily achieve the perfect space for cooking, entertaining and living
If you are looking to revamp your kitchen, then taking note of the latest design developments and interiors trends will ensure you bring yours straight into the 21st century. These days the kitchen has become so much more than just a room where we cook. In fact, we want it to be truly multifunctional, with many of us desiring an open-plan space where we can eat, chat, study, entertain and, of course, cook up a storm.
Smart spaces
One of the most rapid developments of late is kitchen technology. From hidden charging stations and clever storage systems to smart appliances and built-in gadgets, the latest kitchens have been designed to perfectly complement a modern-day lifestyle.
Daniele Brutto, co-founder of Hub Kitchens, a design-led kitchen company, agrees: "I believe technology will inevitably play a key role in the future of kitchen design. TM Italia, for example, currently has a kitchen that is controlled via a desktop application, so the tap rises and falls on the click of a button, the sink lid opens and closes on demand and the fridge doors can be opened without even touching the door. This type of software technology will be the future for kitchen designs to coincide with the evolution of modern lifestyles."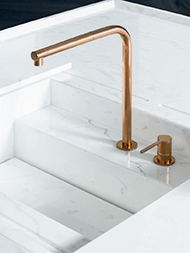 If you are completely revamping, it is important to research what's new and what will work with how you live. Know the difference between products that are gimmicks and those that will play a valuable and useful role in the kitchen.
Tom Hinton, owner of Tomas Kitchen Living, gives his advice: "Technology in the kitchen is moving fast with Bluetooth being used more and more to streamline its functionality. We are the main dealers for Siemens built-in appliances, and it has recently re-launched most of its ovens with Home Connect. This enables the user to connect the oven to a smartphone, allowing the appliance to be programmed and operated remotely."
This image: Miuccia Kitchen from TM Italia,
available at Hub Kitchens
A new, muted palette
When it comes to colour schemes for kitchens, it's now all about the muted tones. Colours such as pale greens, charcoal greys, soft blues and off-whites are prime hues to showcase good quality cabinetry, wood flooring, marble tops and glass splashbacks.
"Green hues help to bring a touch of nature into the home, especially if you have a kitchen that looks out onto your garden," says Josephine Rance, marketing director at Farrow & Ball.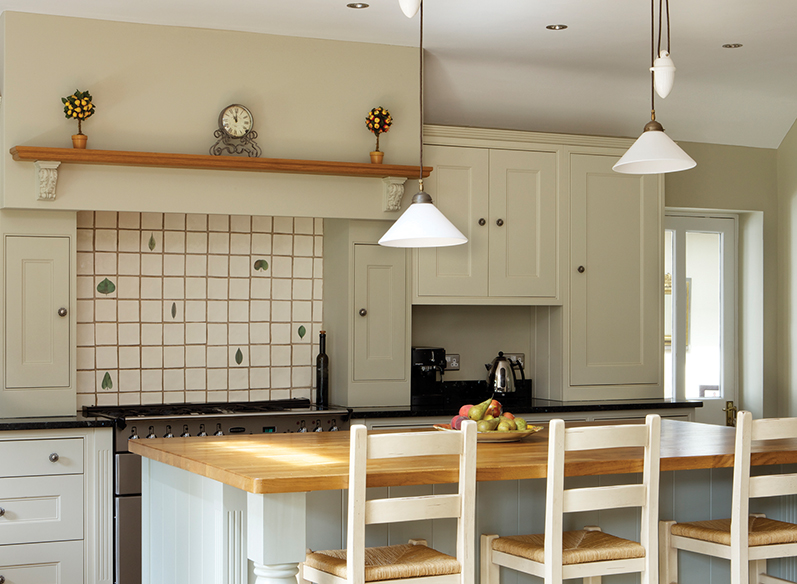 This image: kitchen painted in Clunch, by Farrow & Ball
"Cromarty paint – inspired by sea mist – is a beautiful muted pastel that could be used on your cupboards to complement a neutral shade on the wall, such as Shadow White, one of our nine new colours this year.
"When painting your kitchen we recommend Modern Emulsion being used due to the kitchen being an area of high usage. It gives depth of colour, a matt appearance and is hard-wearing."
Finishing touches
Whether you opt for bespoke furniture – such as those available at Cambridge-based David Hall Furniture and Knights Country Kitchens – or a fitted kitchen from the high street, the next step is adding interest to your kitchen with the finishing touches.
Tiling, for instance, is an easy way to add personality. Fired Earth's brand manager Lucy Kenna agrees: "Low-maintenance, hard-wearing surfaces such as porcelain tiles really come into their own in the kitchen, where splashes and spills are inevitable.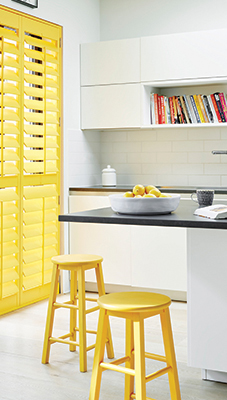 "The new Boulangerie porcelain tiles are ideal for a contemporary take on a more classic look, offering a combination of traditional French styling and modern ease of maintenance. They're also a great way of adding a splash of colour and eye-catching pattern to the kitchen."
Window dressings, such as shutters, available at stores such as Shutterly Fabulous and The Shutter Store, or window film, like that at The Window Film Company, are also ideal ways to add a stylish – yet practical – addition to a kitchen.
Lighting is another way to make a statement. From industrial pendants to a line of standout glass shades, they provide an elegant addition to a dining space or island area.
Søren Ravn Christensen, chief creative developer of lighting specialists VITA Copenhagen, says: "Combine design with functionality and make your dining table a centrepiece by hanging above it either a big lampshade as a focal point, or a straight line of chic lamps. Our Clava Dine lampshade frames the dining table and has symmetric holes around the lampshade which gently diffuse a cosy ambient light, while also adding a directional downward light."
This image: shutters by The Shutter Store
Simply storage
Of utmost importance in a kitchen is, of course, storage. Even if you opt for some open shelving – to showcase the best ceramics and glasses – most people still need ample cupboard space to hide away the clutter and practical items that every cook needs.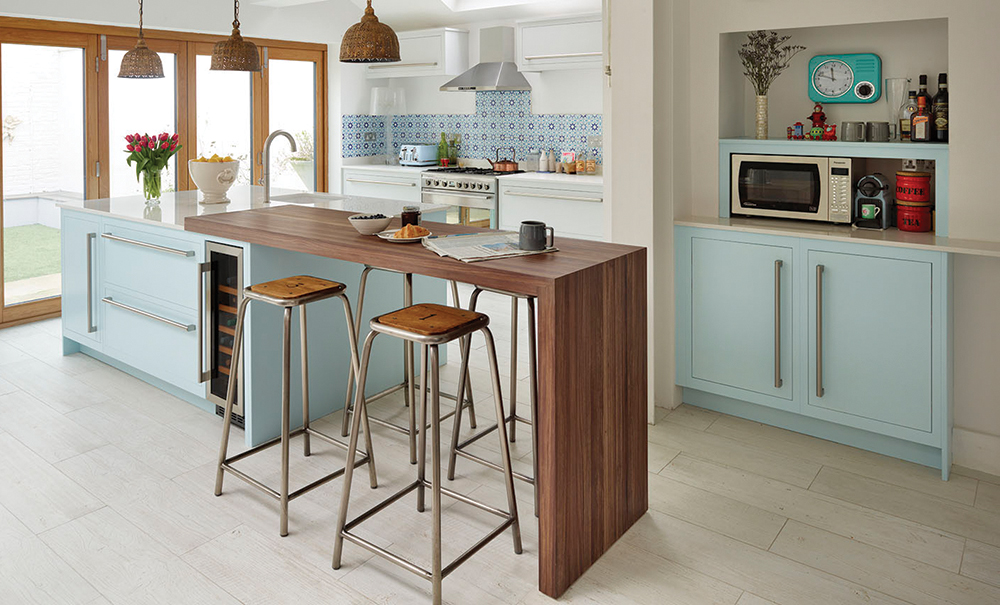 This image: blue Linear kitchen from Harvey Jones, from £18,000
Matthew Payne, designer at Harvey Jones Kitchens, gives his advice: "The modern shaker kitchen is very much on trend. Shakers believed that every object in the home should have a function and that decoration was unnecessary. With this in mind, a true Shaker kitchen should evoke a simple and uncluttered look, using the very best materials and should be built to last. Storage is integral to the design and should be practical, such as a cool larder or hard-wearing butcher's block."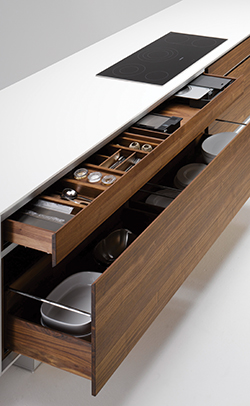 Expert opinions
Family Sized
Jonathan Stewart, managing director at Wharfside, talks about the ultimate family room
"Families now require kitchens that worker harder than ever – combining many functions into one kitchen and living space, while still demanding a kitchen that looks stylish and sleek.
"Some of the key features that are increasingly in demand include concealed power points, open shelving, free-standing pieces, and wonderfully flexible designs such as the K7 adjustable kitchen island, which morphs from a kitchen countertop to a dining table, sideboard or bar, a the simple touch of a button."
This image: Vao Kitchen by Team 7, available at Wharfside, kitchens from £50,000
Future proof your kitchen
Tom Hinton of Tomas Kitchen Living in Cambridge reveals the future of kitchen technology
"At the recent biannual EuroCucina show in Milan, Miele showcased its vision of the future with its technologically advanced Invisible Kitchen. Beneath the countertop, for instance, were various hidden sensors and scanners.
"One could take a room-temperature bottle of white wine, stand it on the countertop and the kitchen would do the rest: it would identify the wine, then chill it down to the optimum temperature in the matter of a few minutes!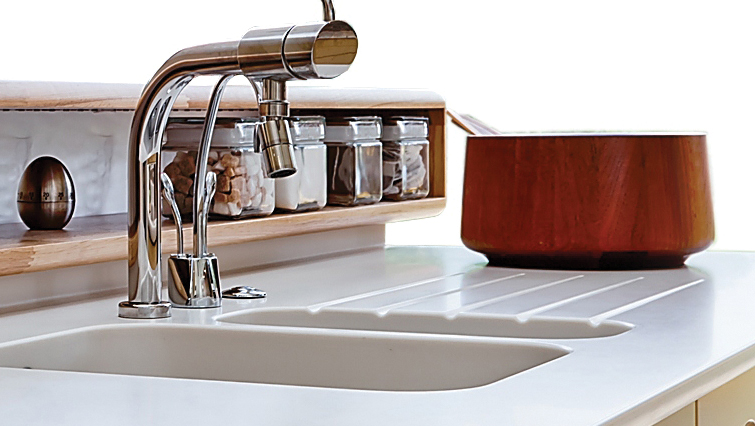 This image: Boxbar cut from sink by Tomas Kitchen Living
"The kitchen could also tell you about the food you have, the dates, the weight and even suggest menus to you! Already available are intelligent oven hoods which can respond with the hob and countertop hotspots for charging a smartphone."
Insider tips
Amelia Carter, interior designer, gives her advice on how to achieve a stylish kitchen
1. Go for matt-white lacquered cabinetry – it is elegant, practical and a great canvas to build around. You can add colour and interest with accessories, tiles and wall colours.
2. Granite is a much harder surface than marble and as a result it is not as porous so lasts over time with fewer stains and water marks. If you do go with a marble, look at the harder versions or be aware that over time, they will gather marks or patina.
3. Functionality is key. I always design kitchens using drawers underneath the counters rather than cupboards. This means that you can see everything within the drawer upon opening it, rather than having to crouch down and peer into a deep cupboard.