"It's easy to want to hide during December." See below for Ruthie Collins' guide to the Cambridge arts scene
This Image: Artist Cheryl Warren's contemporary paintings are on show 5-6 December at her studio
It's easy to want to hide during December. That, or go all out to every single shindig, bash and tinselly grotto until you do want to hide during December. Why not try an alternative route of cosy merriment forged by artists at their open studios, art markets and Christmas fairs? This is the time of year that many of the city's makers throw open the hatches to invite friends round to buy their wares – one of the best ways to turn Christmas shopping hell into a fun chance to meet and support independent artists in the city. On 16 December, snap up quirky cards, books or beautiful works made nowhere else in the world at a craft fair in aid of Cambridge to Calais action group. The event is hosted by stained glass artist Jill Fordham who is based at Cambridge Art Salon's new(ish!) UNIT 13 studios in East Cambridge. The fair is in the lounge area at Barnwell Baptist Church as part of Abbey People's Christmas Dinner on 16 December (there's a lantern parade, too).
Cheryl Warren's open studios on Cavendish Road are a must-visit for those in search of elegant contemporary paintings, with plenty of affordable prints and cards offered, too, to suit your budget. Running 5-6 December, it's a perfect chill-out escape for attendees of Mill Road Winter Fair, which is my go-to Christmas market, with thousands flocking to eat delicious food and visit hundreds of stalls every year. Check www.cherylwarren.com for more of her stunning work (I have one of her pieces cheering up my kitchen). Festive art lovers should also pop into Byard Art's Christmas Cracker show, open all month to savour the Christmas nostalgia of mixed-media artist Ann Winder-Boyle, whose warm-hearted pieces feature roaring fires and vintage English scenes that are a perfect accompaniment to any Christmas in Cambridge.
---
Toddlers can pop in to enjoy art classes at Stir
---
I'm spending Christmas on my boat this year. This year, we're bringing Santa to the river for the Cam's growing community of boater children, though my boy did worry that he might 'sink the boat'! We'll be enjoying the festive countdown making art at Stir, a new café on Chesterton Road, where toddlers can pop in to take part in art classes on Tuesdays and Fridays (check the noticeboard or website for more details).
Those hunting for the perfect pressies for children this year, why not pick up one of the many books by talented Cambridge illustrators? Choose from the likes of Marion Lindsay who illustrates the bestselling Maisie Hitchins series by Holly Webb, or the wonderful Louise Pigott (babies will love her Forest Lullaby board book of illustrations for Cottage Door Press – just gorgeous). Fans of the ever popular Cambridge cats Fitz and Will, can buy their new book, The Christmas Adventure at Cambridge Waterstones (more on page 20), which was released this October. Plus you can buy gifts and treats from the likes of the fantastic Jo Clark, who is a huge hit with animal lovers, at www.joclarkdesign.co.uk or buy direct at Cambridge Contemporary Crafts.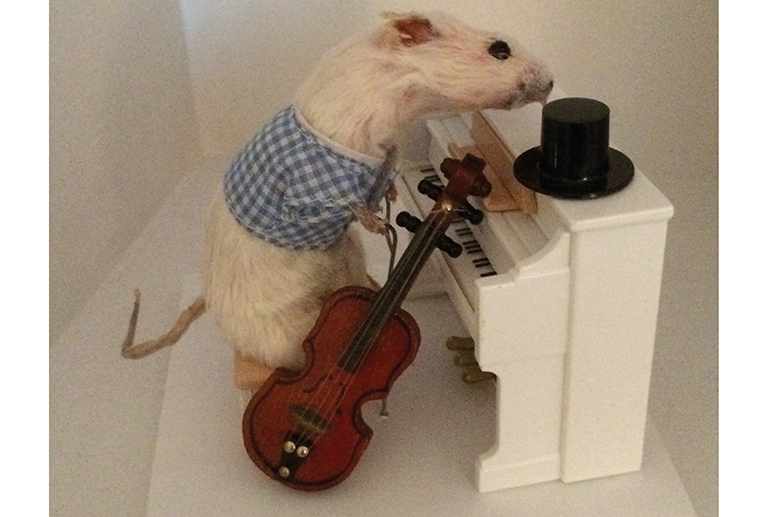 This Image: Taxidermy for beginners comes to the Junction on 12 December, and attendees can leave the event with their own taxidermy mouse!
Finally, those looking for imagination and a well-being boost, buy Sa'adiah Khan's adult colouring book – Alternative Escapism 1, which is being snapped up by buyers from all over the world. She lives in Cambridge, with a huge and well-deserved following, known in the community for her beautiful work – check www.sadisoularts.com. Or learn taxidermy and craft a one-off Christmas gift at Cambridge Junction, with artist Tonja Grung as part of Junction University on 12 December, for £25. Learn skinning and tanning through to mounting with inspiration from all things Victorian macabre!
Or how about wizarding foraged twigs and feathers into an elegant wreath, infusing it with your own symbolism? On 1 December from 6pm, a free workshop from Cambridge Junction takes you foraging with artist Sheila Ghelani. Those of you looking for a welcoming crowd of artists, can get sketching Cambridge with Urban Sketchers, a new meet-up founded by artist Yasemin Gyford – www.facebook.com/uskcambridge. Why not make this Christmas a creative one? Enjoy it, all.